Finance Minister Nirmala Sitharaman unveiled the details of the Rs 20 lakh cr economic package declared by PM in his address to the nation.
New Delhi| The mega stimulus package of Rs 20 Lakh Crore is being released by Central government as FM Nirmala Sitharaman unveils the details of the package.
The announcement has already soared the markets, with the benchmark equity market indices on the Bombay Stock Exchange (BSE) and National Stock Exchange (NSE) opening nearly 4% higher.
Key Highlights From FM Nirmala Sitharaman's Presser:
PM laid out a comprehensive vision, and that vision was laid out after wide consultations with several sections of the society. Essentially this is to spurt growth and to build a very self reliant India and that is why this whole initiative is called Atmanirbhar Bharat Abhiyan: Finance Minister Nirmala Sitharaman.
Five pillars of 'Atmanirbhar Bharat- economy, infrastructure, system, demography and demand. Atmanirbhar (self-reliant) India does not mean India is to be an isolationist country: FM
FM lists business reforms: public sector bank clean up, recap, FDI liberalisation, Ease of Doing, IBC, GST, and NHAI TOT, power sector reforms, privatisation of airports, cleaning up of coal mining sectors.
Within hours of the first lockdown, Rs 1.7 lakh crore were issued under PM Garib Kalyan Yojana. Insurance cover of Rs 50 lakh per health worker. 80 crore poor given ration. Front-loaded Rs 2,000 paid to farmers under existing PM Kisan scheme.
In a major initiative, we announce Rs 3 lakh crores collateral-free automatic loans for businesses, including SMEs. Borrowers with up to Rs 25 cr outstanding and Rs 100 cr turnover are eligible. These have 4-year tenor, valid up to October 31st, 2020. This will enable 45 lakh MSME units to resume business activity and also safeguard job: Finance Minister
Government to provide stressed MSMEs with equity support; Government will facilitate the provision of Rs. 20,000 Crores as subordinate debt.
Rs 50,000 cr. equity infusion for MSMEs through Fund of Funds; to be operated through a Mother Fund and few daughter funds; this will help to expand MSME size as well as capacity: Finance Minister
Definition of MSMEs has been revised, investment limit to be revised upwards, additional criteria of turnover also being introduced: Finance Minister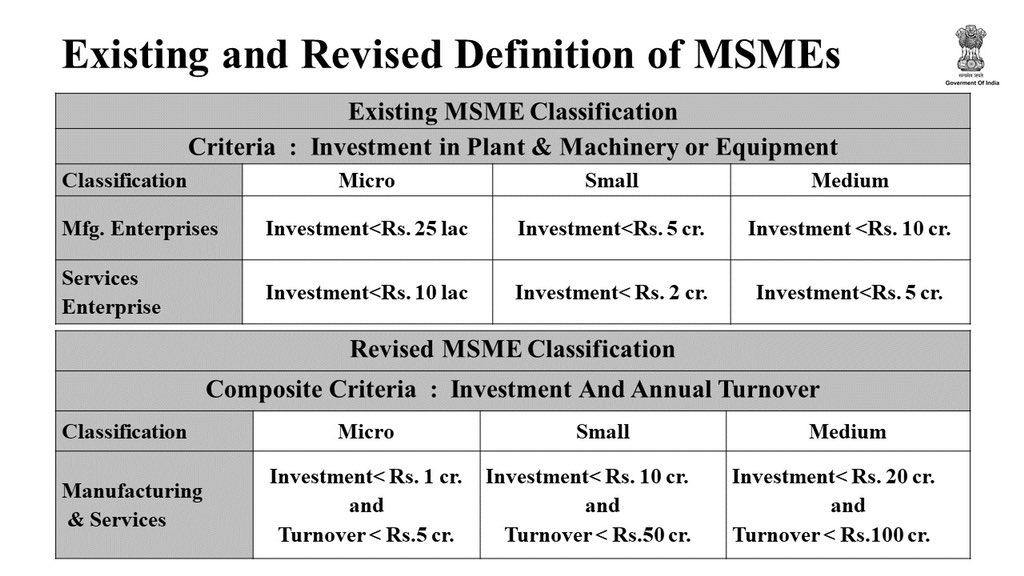 Global tenders to be disallowed in Government procurement up to Rs 200 crores. This will make self-reliant India, will also then be able to serve 'Make in India': Finance Minister
Govt of India and Central Public Sector Enterprises will honour every MSME receivable in the next 45 days: Finance Minister
E-Market linkage for SMEs since trade fairs and exhibitions may not be held post-COVID. All receivables of MSMEs will be cleared by GoI and PSUs within the next 45 days.
To ease financial stress as businesses get back to work, the Government decides to continue EPF support for business & workers for 3 more months providing a liquidity relief of Rs 2,500 crores. In order to provide more take-home salary for employees and to give relief to employers in payment of PF, EPF contribution is being reduced for businesses & workers for 3 months, amounting to liquidity support of Rs 6750 crores: FM
Government launches a Rs 30,000 crore Special Liquidity Scheme for non-banking financial companies, microfinance companies, housing finance companies. The government announces Rs 45,000 crore liquidity infusion through a Partial Credit Guarantee Scheme 2.0 for NBFCs: FM
RS 90,000 crore liquidity injection for Power Distribution Companies (DISCOMs)
In a major relief to contractors, all Central agencies to provide an extension of up to 6 months, without cost to contractor, to obligations like completion of work covering construction and goods and services contracts: FM
Ministry of Housing to advise States/UTs &their Regulatory Authorities to extend registration&completion date suo-moto by 6mnts for all registered projects expiring on or after 25Mar,2020 without individual applications. Treat COVID-19 as an event of 'Force Majeure' under RERA: FM
TDS/TCS rates to be reduced by 25% till March 31, 2021. Will release Rs 50,000 crore in the hands of people. The due date for Income Tax Returns for the year 2019-2020 now being extended from 31st July and 31 Oct to 30 November 2020: FM Sitharaman
Vivaad say Vishwas scheme extended up to December 31, 2020. No extra payment sought.FM
(Inputs from ANI)